dksnjbfhjsdfbhdjsf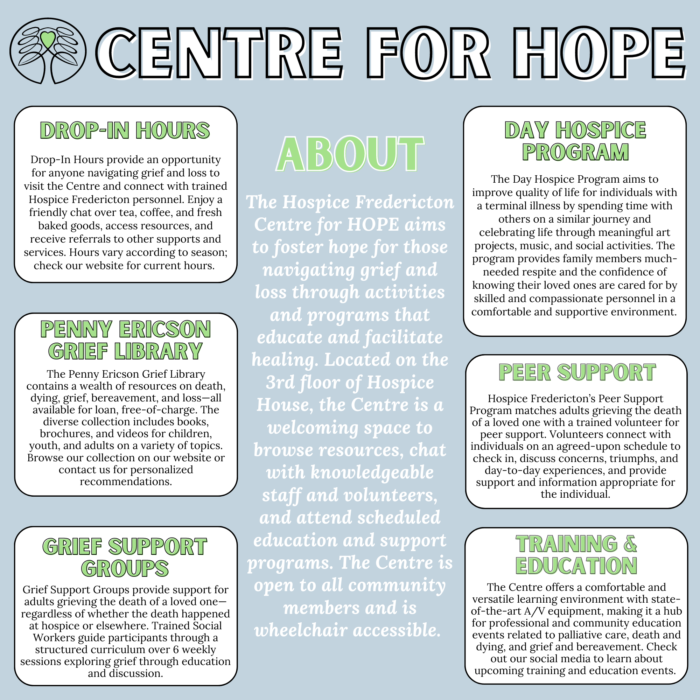 Virtual Support: We're here to help
Finding a community and connection can be difficult while practicing social distancing, we are here to help.

If you are looking for helpful resources specific to your own personal grief and bereavement, but are unsure where to begin, our social worker can help guide you in the right direction.
Services

offered at Hospice House
Grief Groups
Grief & Bereavement Volunteers
"Coping Together" Monthly Drop-Ins
Grief Library
Morning Strolls-Grief Walks
Grief groups are open to all members of the community, whether your loved one was a patient at Hospice House or elsewhere.

Grief groups tend to run for 2 hours, and are offered once a week for 6 weeks. Please note that individuals who are unable to participate in a grief group until a minimum of 3 months have passed since the death of your loved one. Individuals are able to be placed on the waitlist during this time.


We are fortunate to have a group of highly skilled volunteers who have been specifically trained in grief & bereavement services here at Hospice Fredericton.

Our volunteers are also trained to do regular phone check-ins with individuals who seek support. These services are available to all members of the community who are seeking support as well as those who are placed on a waitlist for another service offered at Hospice Fredericton, such as a grief group.
COMING SOON: Stay tuned for more information on our Facebook page and on our website.
Hospice Fredericton will soon be offering monthly drop-in grief sessions that target various themes with a focus on self-care and education.
Hospice Fredericton houses a large variety of books that individuals are able to borrow and take their time to look through and read. We have books that target all audiences, from young children to adults, that cover various areas and forms of grief and loss.
As part of the grief and bereavement services offered through Hospice House, the Mourning Stroll is an opportunity for people in the community experiencing grief and loss to connect with others.

Meet new people, combat isolation, get active, and be in the presence of others who understand grief. Though we encourage sharing, it is not required. We can simply hold space for one another as we take these symbolic steps forward in our grief journey together.

Walks will take place every other Tuesday Beginning tomorrow November 2nd, 2021 at 10AM. Proof of double vaccination and masks are required.



Community Mental Health Services
Addiction and Mental Health Services
Family Enrichment and Counselling Services Inc.
Addiction and Mental Health Services provide a range of services for individuals, youth, and family members. This is a free, voluntary service and can be accessed with or without a referral. Initial appointments are offered within 3 business days. Hours of operation are Monday to Friday 8:30am-4:30pm

Fredericton region: (506) 453-2132

Woodstock: (506) 325-4419

Perth-Andover: (506) 273-4701

Learn More
Family Enrichment is a not-for-profit community agency dedicated to providing counselling services and educational programs in Fredericton and surrounding area.

Phone: (506) 458-8211
Email: info@familyenrichment.ca
Learn More



After Hours Crisis Intervention Services
Mobile Crisis through Addictions and Mental Health Services
Emergency Rooms and Community Health Centres
The Mobile Crisis Team increases access to services and provide a range of crisis intervention services in a timely and effective manner in the person's own environment or the environment of their choice.

Fredericton (4:30 p.m. to midnight Monday – Friday, 3 p.m. to 11 p.m. Saturday & Sunday) 506-453-2132

Woodstock & Perth-Andover (Sunday to Sunday 2 p.m. to 10 p.m.) 1-888-667-0444
Your local hospital emergency room and community health centres are also equipped with mental health and crisis intervention services during their regular operational hours.
CHIMO
Kids Help Phone
Crisis Services Canada
CHIMO is a provincial crisis phone line, accessible 24 hours a day, 365 days a year to all residents of New Brunswick. Our mission is to serve our community by providing a competent level of crisis intervention, referrals, and vital information in a caring, confidential manner. We can help you by providing a listening ear, helpful information, crisis intervention and referrals to resources in the province of N.B.

Provincial Helpline: 1-800-667-5005
Fredericton Area helpline: 506-450-HELP(4357)
Live Chat 5pm-12am daily through their website by clicking the link below:
CHIMO Website
Kids Help Phone is Canada's only 24/7, national support service. We offer professional counselling, information and referrals and volunteer-led, text-based support to young people in both English and French. Whether by phone, text, mobile app or through our website, you can connect with us whenever you want, however you want.

For phone support call: 1-800-668-6868.
For support via text message: Text CONNECT to 686868
Learn More
Anyone in Canada that is thinking about, is or has been affected by suicide, can reach out across a variety of media, and feel supported 24 hours a day, 7 days a week.

For phone support call: 1-833-456-4566
For support via text message (available 4pm-12am ET): text 45645
Learn More
Canadian Virtual Hospice
MyGrief.ca
GrievingTogether.ca
Children and Youth Grief Network
KidsGrief.ca
Widowed.ca
Cancer.ca