Hike for Hospice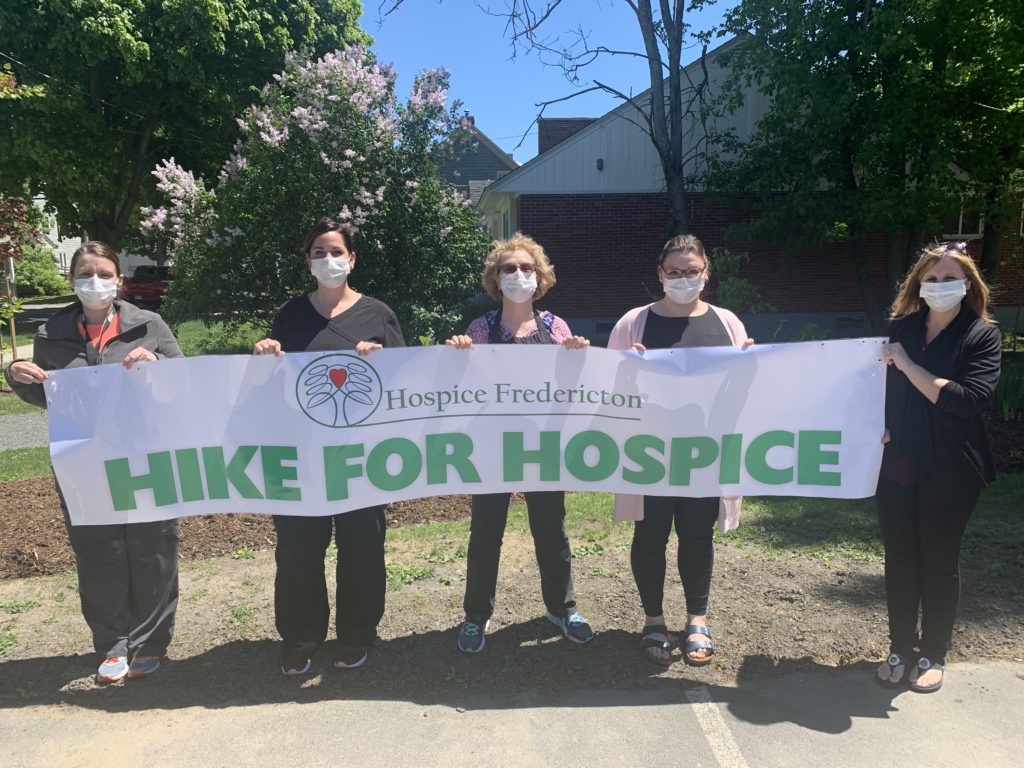 You are invited to join us for the 12th Annual VIRTUAL Hike for Hospice during the month of June! Register yourself or your team and start fundraising today!
Due to the current situation we are all facing with COVID-19, the Hike for Hospice will look very differently this year – but the need for your support remains the same. Your generous support directly funds the programs and services that we offer through Hospice House. Our clinical and administrative staff have continued to work each and every day throughout the evolving pandemic offering compassionate en-of-life care.
During the month of June, as you practice social distancing, we ask that you think of Hospice Fredericton on your daily walks. After you register yourself or your team, share your fundraising page on social media to encourage friends and family to show their support, post a photo of who you are walking in memory of, tag Hospice Fredericton in your posts and use #HikeForHospiceFred2020. You can also record your own video during your daily walks and share it on your Facebook!
BAYSHORE FOUNDATION FOR EMPOWERED LIVING WILL DONATE 50 CENTS FOR EVERY DOLLAR RAISED UP TO $20,000!!!
We have a number of fun activities planned during the month of June!
Weekly incentive prizes for our top earners!
We will be hosting a Virtual Hike for Hospice on our Facebook page on Sunday, June 21st at 1PM! Tune-in live! 
If you have a photo of a loved one that you're walking in memory of please email it to jmatthews@hospicefredericton.ca before June 20th and we will display it along the trail during the Virtual Hike for Hospice!
We will be hosting the 12th Annual Virtual Hike for Hospice Grand Total with our staff and Board of Directors, and some special guests, on our Facebook page on Sunday, June 28th at 1PM! Tune-in live!
Over the past 11 years, your continued support of the Hike for Hospice has enabled us to have a lasting impact on our community, including:
The 2nd residential hospice in Atlantic Canada
570+ patients admitted since 2016
2,700+ family members supported
75 clients and their families are supported each year through our Community Services program
80+ have attended our Grief Support Group meetings
72+ clients have been referred to the J.T. Clark Family Adult Day Centre
150+ health professionals have attended our LEAP program, on training and approaches to care at end-of-life
100+ volunteers support our operations, and our patients and families
Every donation you collect, big or small, makes a huge difference!
$20 = an hour of caregiver support
$50 = a day at the J.T. Clark Family Adult Day Centre 
$75 = daily nutritious meals for one of our patients
$100 = purchase of personal care items for our patients
$150 = purchase of personal protective equipment (PPE) for our staff
$250 = offsets the cost of medications for a patient for a month
$400 = the cost of providing a full day of care for a patient at Hospice House, versus $1,000 in an acute healthcare setting
$500 = provides person centred care training to 4 healthcare professionals through our LEAP program
$1,000+ = investments into facility upgrades and improvements
Hospice Fredericton offers care, comfort and support to individuals and families coping with advanced illness, death, and bereavement in the central New Brunswick region.  Services offered by Hospice Fredericton include: in-patient 24-hour palliative care, in-home support, respite care for the caregivers, narrative care and grief support. In 2016, Hospice House opened a 10-bed residential hospice facility which has supported over 500 patients and 2,400 individual family members. Hospice House also offers the JT Clark Family Adult Day Centre for individuals with mild to moderate dementia.
May 5, 2019 – 11th annual Hike for Hospice Results!